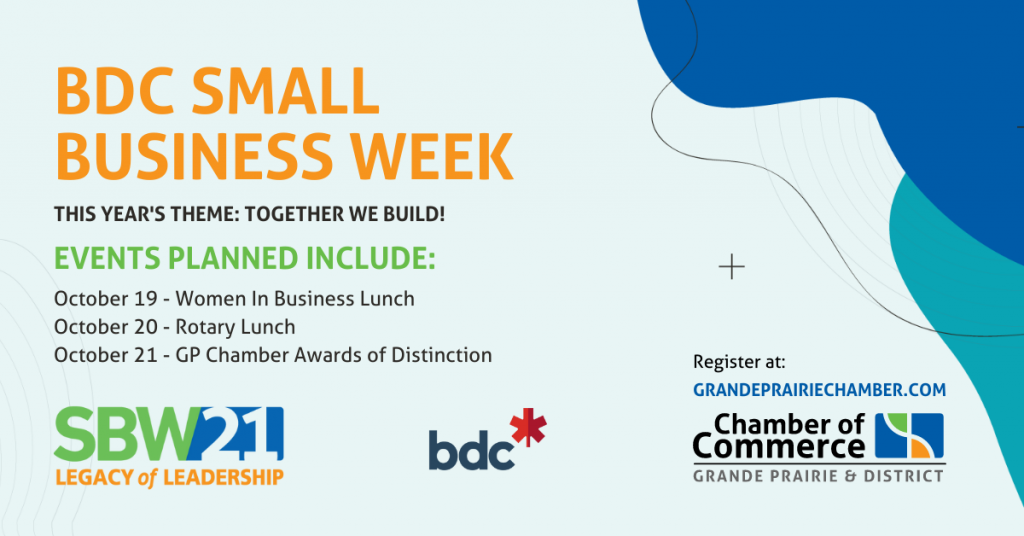 BDC Small Business Week 2021 is scheduled for October 17-23.
This year's theme is: Together we build
As the economy roars back to life, it's become clear that the past 18 months have fast-forwarded long-term disruption. From growing labour shortages and the rise of remote work, to the expansion of digital business and increasingly frequent climate events; Canadian entrepreneurs will need to focus on innovation, inclusion and sustainability to maintain their growth amidst these changes. For BDC Small Business Week 2021, let's join together to discuss the opportunities that lie ahead for Canadian entrepreneurs.
THANK YOU to everyone who supported this year's events:
Women in Business Lunch
Lunch With Rotary
Grande Prairie Chamber Awards of Distinction
Thank you to the following for their support of Small Business Week in Grande Prairie:
National Sponsor and Award Sponsor - BDC
Award Sponsors - ATB Financial; City of Grande Prairie; County of Grande Prairie; Community Futures Grande Prairie and Region; Grande Prairie Regional Tourism Association; Grande Prairie Regional Innovation Network; Swan City Rotary Club
Women In Business Lunch Event Sponsor - MNP
Door Prize Draws - Grande Prairie Downtown Association, Scotiabank, Chamber of Commerce
The businesses nominated for our 2021 Grande Prairie Chamber Awards of Distinction were:
Past SBW Awards of Distinction Recipients (Business Excellence Awards until 2014)