BDC Small Business Week 2021 is scheduled for October 17-23.
This year's theme is: Together we build
As the economy roars back to life, it's become clear that the past 18 months have fast-forwarded long-term disruption. From growing labour shortages and the rise of remote work, to the expansion of digital business and increasingly frequent climate events; Canadian entrepreneurs will need to focus on innovation, inclusion and sustainability to maintain their growth amidst these changes. For BDC Small Business Week 2021, let's join together to discuss the opportunities that lie ahead for Canadian entrepreneurs.
Nominations for our Grande Prairie Chamber Awards of Distinction are now open until Friday, September 24, 2021.
You can either nominate YOUR OWN business OR nominate ANOTHER business for one of eight awards. (ALL nominees will also be considered for our Small Business of the Year Awards for businesses with less than ten employees and with 10-to-50 employees).
We will contact the nominated business directly to determine if they accept the nomination (if not SELF-nominated) and to follow up with them for supporting information. Tell us the name of the business, in what category you feel they are deserving, and why. If you're not sure what category would be the best fit, nominate them anyway for being awesome and we will work with them to find the one that suits them best!
Events being planned include:
October 18 - Small Business Week Kickoff
October 19 - Women in Business Lunch
October 20 - Rotary Lunch
October 21 - Grande Prairie Awards of Distinction
For sponsorship information and registration inquiries, please contact Cindy Simigan, Events and Community Partnerships, by email cindy@gpchamber.com or phone 780-532-5340.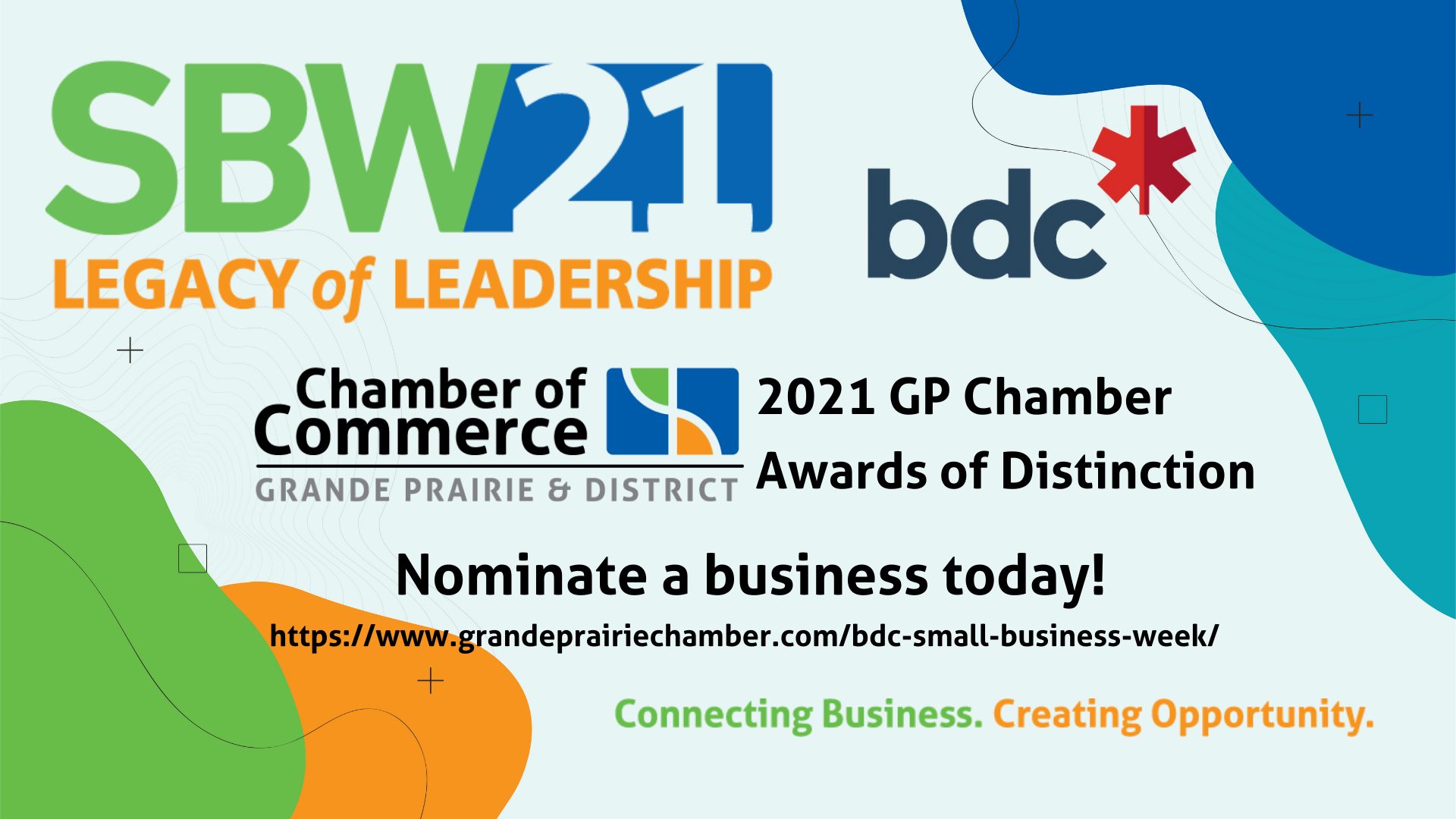 Past SBW Awards of Distinction Recipients (Business Excellence Awards until 2014)