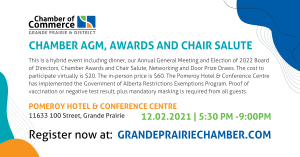 The Grande Prairie & District Chamber of Commerce 2021 Annual General Meeting, Awards and Chair Salute is scheduled for Thursday, December 2 at the Pomeroy Hotel & Conference Centre.
This is a hybrid event. To participate virtually, the cost is $20 + GST and you will receive a Zoom link to log in for 6:30 PM.
For in-person attendees, doors open at 5:30 PM with dinner at 5:45 PM. Please indicate any dietary questions by contacting our office.
The AGM will include a review of our activities in 2021 and election of our 2022 Board of Directors. A reminder that each Chamber Member business in good standing is entitled to ONE vote.
The meeting will be followed by networking prior to the Awards and Chair Salute program supported by Chambers Plan represented by local broker HUB International which will begin at 8:00 PM. Door prize draws and more networking will end the evening.
The cost to attend the AGM, Awards and Chair Salute in person is $60 + GST. The Pomeroy Hotel & Conference Centre has implemented the Government of Alberta Restrictions Exemptions Program. Proof of vaccination or negative test result, plus mandatory masking is required from all guests.
Contact the Chamber Office by phone at 780-532-5340 or email info@gpchamber.com for more information.
The slate of nominees recommended by the nominating committee has been sent to the membership for consideration. and can be viewed here.
* No nominations will be accepted from the floor during the AGM.
Another highlight of this year's event will be the presentation of the annual Chamber Member Awards.
• Clem E. Collins Award (Chamber Volunteer)
• Business Citizen of the Year
• Dan H. Minchin Award (Long-Term Member Business Achievement)
Past Chamber Award Recipients can be seen below: