We have been the voice of business in Grande Prairie & District for more than a hundred years!
2023 Provincial Policy Resolutions
Our Chamber has submitted the following policy resolutions to the Alberta Chambers of Commerce for discussion and approval by the network at the 2023 ACC Annual General Meeting in Fort McMurray in May:
Sponsor: Grande Prairie & District Chamber of Commerce
Modernizing Alberta's Land Title Registration System
Issue
The Alberta Land Titles Office is experiencing unprecedented delays of up to four months in the transfer of land title from one owner to another. Despite government actions aimed at mitigating the issue, excessive delays continue, raising a number of significant challenges for sellers, purchasers and those industries involved in the transactions in securing finances and in closing real estate deals. A robust economy requires a reliable, responsive and sustainable client-centred land titles system that can support the volume and complexity of real estate transactions in Alberta today and tomorrow.
Background
Alberta Land Title Office (LTO) Selling or purchasing a property in Alberta involves reaching an agreement with the other party, inspecting the property and addressing issues, and arranging for financing. A deal is not complete until the Alberta Land Titles Office (LTO) registers a change of title from the seller to purchaser. The LTO operates as the legal registry for interests in titled land in Alberta, issuing all titles, and examining and registering all documents against those titles to ensure accurate information about ownership of titled land and interests can be enforced against that land.
Delays and their impact
Currently, the LTO is reporting an up to four-month delay in processing and registering documents, including land transfers and mortgages. Prior to COVID, this gap period was about three to four weeks. The Alberta Government (Service Alberta), operator of the system, attributes the backlog to a substantial increase in real estate activities and associated packages submitted for registration since April 2021 combined with reduced staffing due to the pandemic. Service Alberta also acknowledges that this system (predominantly paper-based) is inefficient, technologically outdated and in need of reform.1
In Spring 2022, Service Alberta announced it was working on solutions to address the backlog, anticipating wait times to decrease by summer 2022.2 Over $9 million was allocated in the 2022 provincial budget to increase registration staff. Additionally, some technological improvements have been made, and further digital innovations are being considered to streamline the process of registrations. Solutions/tools are also available to help mitigate wait times including Western Law Societies' Conveyancing Protocol (applies to residential property only), Pending Registration Queue (implemented April 2021) and the expedited newly constructed condominium registration (implemented December 2021), though these options may not always be feasible or apply to the circumstance/real estate transaction. Indeed, while all these efforts are a positive step forward, it is not enough; excessive lag times in land title transfers continue.
Buyers, sellers, and the industries associated with these transactions are experiencing a host of issues created by these delays. In addition to excessive wait times, costs for the transactions have increased significantly, losses have been incurred, certain types of real estate transactions have been held up and, in some cases, deals have had to be abandoned.
A few examples of the impacts
Examples of how the public and industry are being negatively impacted by delays are numerous. The following are just a few:
· In situations where title insurance or the Western Law Societies Protocol does not apply, registration of the transfer of ownership must be completed before any exchange of funds. Issues arise as lenders will not forward mortgage funds until the title is in the name of the purchaser and the four-month LTO delay exceeds the maximum 90-120 days that most lenders offer rate holds. As such, in addition to paying for title insurance, some purchasers are having to renegotiate deals – often at higher interest rates – paying more interest and higher mortgage payments. In some cases, deals have had to be abandoned.
· On some refinance property transactions where changes must be made on title prior to applying for a mortgage (adding or removing a co-owner) or on transactions that require a subdivision be registered with land titles and a new legal land description be assigned, it is not even possible to submit applications for formal approval until the title has been updated.
· Municipalities rely on change of ownership notices from Alberta Land Titles; delays have resulted in late penalties for some new property owners, as property tax notices are not always reaching the right property owners. While some municipalities have taken steps to try to identify and provide information to those who recently purchased property, and the Province is now reimbursing some eligible late penalties, these solutions are time-consuming and not all property owners will be reimbursed.
Conclusion Investment in and modernization of the Alberta land titles system is urgent and critical to achieve registrations quickly, effectively and in line with other provinces. Such modernization must have the capacity to manage the spikes of Alberta's real estate industry and be responsive to change, thus improving levels of service to the public, facilitating stability in the real estate market and keeping the Alberta economy moving.
The Alberta Chambers of Commerce recommends the Government of Alberta:
1. Proceed quickly and effectively to remove current system delays and modernize the Alberta land titles system, creating a reliable, responsive, timely, secure and sustainable system able to meet market demands into the future. This includes:
a. Development and implementation of an action plan, which includes consultation with system users.
b. Legislation and investment that supports modern technology and best practices.
c. An innovative and digitized platform that facilitates online business transactions.
d. Streamlined operations and overall business practices.
Sponsor: Grande Prairie & District Chamber of Commerce
Progressive Regulations to Promote Clean Technology and District Energy
The Issue: Alberta regulations are lagging in making renewable energy and clean technology feasible for consumers. Specifically, the Province's micro-generation regulations restrict Alberta businesses from aggregating sites owned by customers, in turn restricting their ability to generate and distribute any excess energy directly to other buildings or compound residence (district energy). Adapting provincial regulations to promote self-generation with clean technology and district energy sources is an important climate change strategy for Alberta, and an opportunity to reduce costs and improve competitiveness for Alberta businesses.
Background
Rising demand for electricity in Alberta Locally and globally, there is an increasing need for electricity, due to a growing demand for air conditioning, electric heating, and electrified transportation, for example. Growing electricity demand will result in higher delivery and electricity prices: upgrades to infrastructure and construction of generation will be necessary, resulting in costs being passed on to consumers.
In Canada, communities account for 60 percent of total energy consumption and half of Canada's emissions – making them key players in our country's goal to reduce emissions. And while carbon-based fuels will likely remain an important part of our energy system for decades, Alberta has an opportunity to better utilize our fossil fuels by improving the way we use our existing energy sources while transitioning to low and zero emission solutions that are available right now, such as district energy systems.
What is district energy (DE) District energy systems (DES) use a central energy plant to provide efficient heating, cooling, hot water and power to a group of buildings. Modern systems (climate-resilient and low-carbon) are one of the least-cost and most efficient solutions in reducing emissions and primary energy demand.1 These systems use alternative energy sources, such as wood waste, sewer heat or waste heat, captured from other processes. Typically, DE is almost fully consumed by consumers within that compound, building or subdivision; excess electricity is sold to the grid.
Benefits DES have a number of benefits that support communities and business:
More cost effective. Serving many customers from one location, DES have lower operations and maintenance costs than buildings with in-building heating systems. Buildings connected to DES have lower capital costs and smaller footprints and, as such, fewer associated costs (insurance, maintenance, upgrade, etc.). Reduced carbon footprint. DES use alternative energy sources and have greater efficiency, producing fewer greenhouse gas emissions than fossil fuel-based systems. Viable, reliable and readily available technology. DES are proven technologies, and are already in place in other parts of Canada and around the world.2 Reliable access to energy. Increasingly faced with electricity brownouts or blackouts from ice, snow and wind storms, floods and fires, low carbon technologies like DES can add to Albertans' energy security.3
Fundamental to more resilient communities. Quest Canada, a national non-profit actively working to accelerate the adoption of efficient and integrated community-scale energy systems in Canada, promotes the value of DE technology in building more resilient communities, citing its environmental, economic and reliability benefits. 4
Barriers in Alberta Current Alberta regulations do not allow a property owner to install generation and sell electricity to the occupants of buildings, compounds or subdivisions. The energy must be sold to the grid through electric distribution system-connected generation (DCG), and then bought back to customers at market rates. Further, while building owners have the option of installing micro-generation, they cannot produce more than what they can consume through their own metering points.
Alberta regulations for small, medium and large business have misaligned incentives for self-generation options. 1). Bulk metering for landlords of commercial retail units and office towers, apartments or large condominium residence is not allowed; 2). There is no incentive for developers of these facilities to install, partner or adapt district energy sources; 3). Micro-generation regulations are restrictive on aggregating sites owned by customers and the distribution of energy is limited at this time; and, 4). Utilities will not allow for building owners to manage the costs of energy for their facilities as rates do not allow such a transaction.
As early as 2017, the Alberta Electric Distribution System-Connected Generation Inquiry identified the need for regulatory change to accommodate growth in the district energy sector in Alberta.5 However, current regulations in the province continue to hamper DES, despite their proven benefits and viability. Furthermore, incentive programs available through Emissions Reduction Alberta, the Municipal Climate Change Action Centre, and other sources do not support funding programs that could benefit DES' implementations.
Conclusion As part of its climate change plan, the Government of Alberta has set a target of 30 percent of electrical energy produced in Alberta to be generated from renewable sources by 2030. Progressive policies and strategies in Alberta that promote self-generation with clean technology, such as DES, support an affordable, flexible, reliable and environmentally responsible alternative to energy delivery for Alberta consumers. Such an approach creates an environment of resiliency and competitiveness for Alberta businesses and communities.
The Alberta Chambers of Commerce Recommends that the Government of Alberta:
1. Implement an industrial, commercial and residential regulatory framework that allows customers to install district energy systems for the sharing of electricity and heat between tenants and neighboring buildings. Such a framework would include checks and balances to ensure cost controls are in place to protect end use customers.
2. Include, support and promote district energy systems in programs and policies aimed at helping drive Alberta and Canada's climate change aspirations, more resilient communities and a more competitive economy.
The City of Grande Prairie is proud to be a designated community under the Rural Renewal Stream of the Alberta Advantage Immigration Program.
The Rural Renewal Stream offers eligible workers the opportunity to immigrate to Alberta as a Provincial Nominee with the formal support of the municipal government.
With the support of this program, the City of Grande Prairie fills local labour gaps by endorsing employers and job seekers to fast-track immigration for eligible candidates.
The Grande Prairie Rural Renewal Stream Community Partnership is made up of community stakeholders with a shared mandate of supporting employers and newcomers to the community.
The partnership is made up of:
The City of Grande Prairie
The Grande Prairie and District Chamber of Commerce
The Grande Prairie Centre for Newcomers
The Council for Lifelong Learning
The 'Community Partnership' is responsible for supporting the City of Grande Prairie in identifying eligible employers and endorsing candidates who are a good fit for the community and are interested in applying for permanent residency through the Alberta Advantage Immigration Program – Rural Renewal Stream.
For more information, visit https://cityofgp.com/culture-community/about-grande-prairie/moving-grande-prairie/immigration-rural-renewal-stream
Highway 40X Connector: Driving Growth and Prosperity
Highway 40X Connector: Driving Growth and Prosperity
Local governments and organizations from across the region, including the County of Grande Prairie, are urging the Provincial Government to move forward with constructing the Highway 40X Connector.
Highway 40X will be a vital addition to the region's existing transportation network, connecting Highways 40 and 43.
This project supports significant economic development opportunities for the region and entire province. It provides critical access through increased transportation network efficiency and major improvements to traffic safety.
The Grande Prairie Region plays an important role in the provincial economy by serving as a trade area for more than 280,000 people. Construction of the Highway 40X Connector will help propel the region forward to achieve its full potential.
Prioritizing this project maximizes its benefits – including job creation – as we all work to build a more sustainable and resilient Alberta.
The Benefits
· Critical Transportation Link
Highways 40 and 43 support significant existing industrial and commercial activity in the region while providing critical transportation links to other areas of Alberta and into British Columbia. Highway 43 is part of the CANAMEX/North-South Trade Corridor, linking Canada to Mexico through the United States.
· Economic Development
More than $16 billion in new private investment is expected in the region, serviced by the Highway 43 and Highway 40 network.
Two unconnected major highways is a rarity in our province, and a potential barrier to investment attraction in the region. Connecting these highways will foster even greater economic development opportunities for our Province by creating improved, more efficient transportation infrastructure.
· Public safety
Increased high volumes of heavy truck traffic and congestion raise the probability of accidents and serious incidents.
Every day, about 28,000 vehicles move through Grande Prairie, including 3,000 heavy trucks navigating residential areas, parks, school zones and pedestrian trails. The negative impact of industrial traffic on local populations will only escalate with increased industrial activity.
The Ask
Functional planning was completed in 2010, meaning the highway corridor is defined and the next steps of acquiring land and engineering design work could move forward immediately.
We are asking the Province to fund the project and prioritize it in their capital plan to be completed as soon as possible.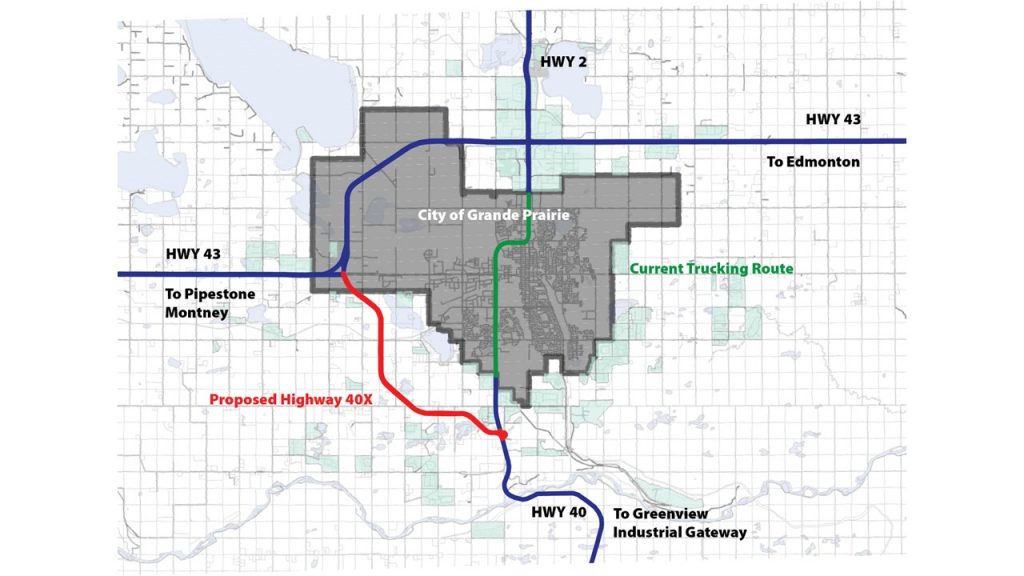 2022 National Policy Resolution
Our Chamber's policy resolution was passed with 98% approval by delegates at the 2022 Canadian Chamber of Commerce Annual General Meeting and Convention in Ottawa. The full document can be seen below.
Sponsor: Grande Prairie & District Chamber of Commerce
Reducing the Cost of Working through Reform to GIS Thresholds
Issue
Labour shortages, already a pressing issue for Canadian businesses before the COVID-19 pandemic, are growing and new ones emerging. Yet Canada's Guaranteed Income Supplement (GIS) program clawbacks are creating barriers to labour market participation for many employable older adults by discouraging the pursuit of income exceeding set values to qualify for GIS. This is increasing labour market pressures, negatively impacting quality of life and limiting Canada's potential economic output.
Background
Canada's Retirement Income System (RIS),(1) which includes GIS, functions on many of the assumptions that we had decades ago. Though some reforms recently have been introduced, innovation to Canada's RIS programs has been slow, especially in light of the evolving economic, demographic, social and labour market  context. Research posits that a lack of integrated political decision-making, regulation and research is restricting RIS innovation.(2)
When Canada's public pension programs were designed over 50 years ago, the average age of the population was under 30. We're now on average over 40-years-old and living longer. About 23% of the working age population will be 65 years or older by 2024. Between 2021-2024, Canada will lose about
600,000 workers as people age and exceed 65-years-old, lowering the share of the population participating in labour markets.(3)
Further, many Canadians now face personal financial uncertainty.
(4) Forty years ago, almost half of working Canadians had some form of pension coverage. Today, only about one-third do. Faced with living longer and fewer savings, worries about "inadequate savings for retirement, outliving their money, and affording health services that are not universally guaranteed (such as long-term care)"(5) are more prevalent.
What is concerning is that while Canada is experiencing a declining labour force and Canadians are facing increasing costs of living and inadequate savings for retirement, research(6) shows features of Canada's public retirement income system have significant work and income earning disincentives for older workers. The greatest impact is on recipients of Guaranteed Income Supplement (GIS), a government program intended to support low income seniors.
Basic Old Age Security (OAS) is a monthly payment available to all Canadian residents aged 65 and over. GIS is based on income and is available to low income OAS recipients. A single senior qualifies for GIS if their income is below $19,464; couples qualify if their combined income is below $46,656.
These thresholds are meant to provide "floors" to keep people out poverty. To provide greater context for GIS thresholds, in Alberta, for example, the thresholds to meet "low income status" for Alberta's Community Housing Program are much higher: $25,500 to $43,000 (bachelor, 2021), depending on where you live.(7) This represents the minimum income required to meet basic needs in different municipalities throughout Alberta.
What is discouraging low earning seniors from saving for retirement and taking employment is that GIS benefits are reduced or clawed back for other income earned, including employment and self-employment income, above $5,000 per year. For earnings between $5,000 and $15,000, GIS will be reduced by 50 cents for every dollar of income received.(8)
Further, because GIS is based on previous year's income, the effect of earning additional income can be experienced for up to two years. For example, if an individual receiving GIS earns other income over $5,000 in 2020, the GIS for that year is clawed back after they file their 2020 taxes and they will continue to lose the monthly benefit amount until they file their 2021 tax return showing no additional income. Although GIS is paid retroactively for qualifying years, the loss of GIS income for an entire year can have significant impact on quality of life during that time period.
In addition, other provincial income supplements, and health and basic needs programs are also restricted if the individual earns income. Although these individuals are in need of additional income to meet basic living expenses, the risk of losing benefits creates a major disincentive for earning additional income through part-time employment.
Reform of GIS clawback mechanisms to incentivize older workers to participate in the labour force aligns with recommendations from the Melbourne-Mercer Global Pension Index (MMGPI), which benchmarks and ranks retirement income systems across the world. In 2019, MMGI made three recommendations for
improvement to Canada's RIS. One of those is: "Increase labour force participation rates at older ages as life expectancy increases."(9)
When Canadians work longer there are numerous benefits to the economy and workplaces:(10)
Modeling shows that the impact to Canada could be substantial in terms of extra labour supply and real output and would result in a substantial increase in living standards.
Studies show that 1) older workers' accumulated knowledge, leadership skills and high job match quality contribute to high productivity; and, 2) since experience is a key element in the commercialization aspects of innovation, an older workforce may increase this dimension of innovative capacity.
More seniors working drives economic growth and generates tax revenue for government.
Recommendations
That the federal government:
1. Work with provincial and territory governments, industry and academia to create a modern framework for RIS that includes undertaking a comprehensive review of the GIS income thresholds and clawback rates to allow for higher earnings exemptions and income thresholds, which will incentivize older
Canadians to voluntarily delay receiving RIS, delay retirement or enter the labour force after retirement.
2. Ensure reform encourages and allows as much participation as possible in the workforce for GIS recipients, helps these individuals stay out of poverty, and allows them to maintain or improve their standard of living.
---
Notes
1 Canada's retirement income system is federally-administered publicly funded, and contains three pillars: 1) Old Age Security (OAS) and the Guaranteed Income Supplement (GIS); 2) the Canada and Quebec Pension Plans (C/QPP); and, 3) tax-deferred and other private savings and workplace pensions.
2 https://static1.squarespace.com/static/5c2fa7b03917eed9b5a436d8/t/5e41c25873b8a7233f398b72/1581367901417/Improving-Canada-sRetirement-Income-System-Setting-Priorities_final.pdf
3 https://thoughtleadership.rbc.com/squeeze-play-higher-wages-alone-wont-solve-canadas-labour-shortage-problem/
4 https://www.cpacanada.ca/en/news/features/2021-11-04-labour-shortage
5 https://static1.squarespace.com/static/5c2fa7b03917eed9b5a436d8/t/5e41c25873b8a7233f398b72/1581367901417/Improving-Canada-sRetirement-Income-System-Setting-Priorities_final.pdf
6 Ibid.
7 https://open.alberta.ca/dataset/423df5de-6562-4b06-9ccb-596e9d130bb5/resource/1128ae16-d050-4a98-860c2e503d84a677/download/sh-2021-income-threshold.pdf
8 https://www.canada.ca/en/services/benefits/publicpensions/cpp/old-age-security/guaranteed-income-supplement/apply.html#h2.2-3.1
9 https://static1.squarespace.com/static/5c2fa7b03917eed9b5a436d8/t/5e41c25873b8a7233f398b72/1581367901417/Improving-Canada-sRetirement-Income-System-Setting-Priorities_final.pdf
10 https://www.ic.gc.ca/eic/site/eas-aes.nsf/vwapj/SRIsr02.pdf/$FILE/SRIsr02.pdf
2022 Provincial Policy Resolutions
Our Chamber had the following policy resolutions approved by the Alberta Chambers of Commerce network at the 2022 ACC Annual General Meeting in Lethbridge.
In 2021, Our Chamber submitted a policy resolution regarding "Safer workplaces for all vulnerable highway workers" as seen below, followed by the recent media release from the Government of Alberta touting "Improving safety for roadside workers".
We are pleased to see the positive response to our proposed recommendations.
Safer Workplaces for All Vulnerable Highway Workers Sponsor: Grande Prairie & District Chamber of Commerce
Issue
Every day, thousands of roadside workers face risks while at work on Alberta highways and roads. Emergency vehicles1 and tow trucks with flashing lights are protected by Alberta's slow down move over law; 2 yet the law excludes vulnerable very short duration roadside workers. Traffic legally passes directly beside these roadside workers without reducing speed or moving over. Further, in Alberta, this law applies only to the lane immediately beside the stopped vehicle, not all lanes travelling in the same direction, creating motorist confusion and increasing risks to all on the road. Amendments to provincial legislation are required to make roads safer for all Alberta roadside workers.
Background
Safe and well-maintained transportation networks across Alberta are vital to driving economic activity, and connecting people and communities. Ensuring the safety and well-being of those roadside workers who keep our highways/roads safe and well-maintained is critical. The road is their workplace and their jobs sometimes require that they park vehicles/equipment on or along the side of the road. Alberta roadside workers, supported by other stakeholders, have been lobbying for change to provincial traffic laws to better protect them in this high-risk environment.
Slow down move over: equal protection for all roadside workers In 2005, Alberta established legislation to create safer conditions for roadside workers. This slow down move over law requires drivers in the adjacent lane to slow to 60 km/hr or slower when passing emergency vehicles with flashing lights, including tow trucks. (Current legislation also requires motorists to observe the posted speed limit in construction zones.) The slow down move over law, however, does not include all vulnerable roadside workers. It excludes those stationery workers conducting "very short duration work"3 (projects up to 30 minutes, as defined by Alberta Transportation). This includes highway maintenance workers, sign installers, line locaters, surveyors, survey crews, etc.
What this means is that when these individuals are stationery and working on the shoulder of the road, vehicles can legally pass in the lane directly beside them without moving over or slowing down – in some cases travelling at speeds as high as 110 km/hr (or higher if exceeding the speed limit). Left completely unprotected by a buffer and slower speed, these workers are at heightened risk of being hit or killed. In addition, these roadside workers are also required to work in emergency situations, in low light, at night or in inclement weather when visibility is poor. Many cite examples of near misses and collisions while on the job. For example, in an eight-month period, one Grande Prairie area line locating company reported vehicle damage on three occasions from passing traffic. In 2015, British Columbia modified its slow down move over rule in response to safety concerns voiced by roadside workers who had been excluded from the law. The law today now includes all roadside workers displaying a flashing light on their vehicle.4
Slow down and move over: align with other provinces for better protection Lobby efforts are also underway for further change to this law to create a safer workplace for roadside workers protected under this law. The change proposes that vehicles in all lanes moving in the same direction, not just the adjacent one, slow down and move over when a designated roadside vehicle is present. On a single-lane, undivided highway, oncoming traffic would also slow down.
In every other province in Canada with slow down move over legislation, the rule applies to all traffic lanes in the same direction of travel. According to the Alberta Motor Association (AMA), the problem with Alberta's law is that many drivers are unclear whether or not they are to slow down, resulting in scattered behaviour and massive speed variations. As well, hazards arise when vehicles slowing down attempt to merge into a lane with fast-moving vehicles.5
Amending legislation and aligning it with the rest of Canada would reduce motorist confusion. It is important to note, however, that while such a change will create a safer environment for workers currently protected under slow down move over, very short duration roadside workers will only benefit from this change if included under the law.
Conclusion
All roadside workers in Alberta have the right to a safe workplace. In December 2020, the Government of Alberta expressed its commitment to the safety of all roadside workers by "actively looking at ways to improve safety on Alberta roads."6 These amendments to Alberta's traffic legislation support that commitment by creating a safer working environment for this workforce and the motorists sharing the road with them.
The Alberta Chambers of Commerce Recommends that the Government of Alberta:
1. Amend Alberta's Traffic Safety Act (section 115) so stationery very short duration workers conducting roadside work have the same protection as other highway workers already included under the Act.
2. Amend Alberta's Traffic Safety Act requiring that vehicles in all traffic lanes in the same direction of travel slow down and move over, not just the adjacent lane. Consideration should also be given to include opposite direction traffic on two-lane, undivided highways.
Improving safety for roadside workers
March 16, 2022 
Bill 5 will toughen rules to protect all roadside workers and make Alberta's highways safer.
The Traffic Safety Amendment Act will require all motorists traveling in the same direction to slow down to at least 60 km/h when passing a stopped roadside worker vehicle with its lights flashing.
The proposed changes will also require motorists traveling in the opposite direction on single lane highways to slow down to 60 km/h when passing.
"Roadside workers work in a high-risk environment and deserve the best protection so that they can go home safely to their families at the end of their shift. That's why, following consultations with the public and stakeholders, Alberta's government is proposing these changes to protect all those working along our highways."
Rajan Sawhney, Minister of Transportation
Proposed changes under Bill 5 will give similar protection to roadside maintenance workers and snowplow operators that first responders and tow truck operators currently have under the Traffic Safety Act.
"Near misses and collisions are a regular occurrence for Alberta's tow truck operators, emergency responders and other roadside workers. We applaud these changes as an important first step in improving the safety of these essential workers and look forward to our continued work in further improving their visibility and safety. We ask all Albertans to take care when passing a roadside scene. Those few extra seconds can make all the difference in keeping someone's loved on safe."
Michelle Chimko, president and CEO, Alberta Motor Association
"Alberta's road construction and maintenance industry puts worker safety first. This legislation is greatly appreciated because we need drivers to slow down and do their part to make their highways – our worksites – safe and efficient for all."
Ron Glen, CEO, Alberta Roadbuilders and Heavy Construction Association
"Highway maintenance crews throughout our industry provide critical services to our province's expansive highway and road network, for the benefit of all Albertans. It is gratifying to see our government taking deliberate and proactive measures to improve safety for all highway maintenance and roadside personnel."
Kelly McManus, president, Transportation and Highway Operations, LaPrairie Group of Companies
"Road safety and the safety of personnel is a high priority across Alberta. Bill 5 considers the concerns that were raised by Albertans and is intended to protect road users and workers, create safety programs that encompass best practices, as well as a province with the highest quality road infrastructure for the transportation of people, goods, and services."
Amber Link, reeve, Wheatland County
Quick facts
Alberta's Government will conduct an educational campaign for all drivers prior to the anticipated enforcement date of spring 2023.
About 15,000 Albertans responded to an online survey from March 16 to April 6, 2021:

92 per cent supported requiring all vehicles to provide one lane of space when passing a roadside worker vehicle when its lights are flashing.
60 felt that the current passing laws were inadequate.

Current fines for passing an emergency vehicle on the side of the road can range from $136 to $826, depending on the speed.
Between March 2018 and March 2021, there were 128 collisions involving snowplows contracted by Alberta Transportation.
The Alberta Motor Association reported that since December 2019, there have been 36 near misses and at least 13 serious roadside incidents involving Alberta tow trucks and passing vehicles - collisions resulting in injury, hospitalization and even death.
Current Policies Flagged for Follow Up by our Chamber
JULY 2021
Thank you to everyone who took part in our first-ever State of the Region on July 14, 2021. We appreciate the participation and support from the
City of Grande Prairie
,
County of Grande Prairie No. 1
and
Municipal District of Greenview No. 16
.
JANUARY 2021
Chamber letter to the Premier requesting a reopen plan for business
Grande Prairie Chamber Regional Economic Development Group
Economic Impact & Gap Analysis of the Grande Prairie Regional Hospital
Executive Summary: GPRH-EIS and Gaps-ExecSumm-14Nov2016