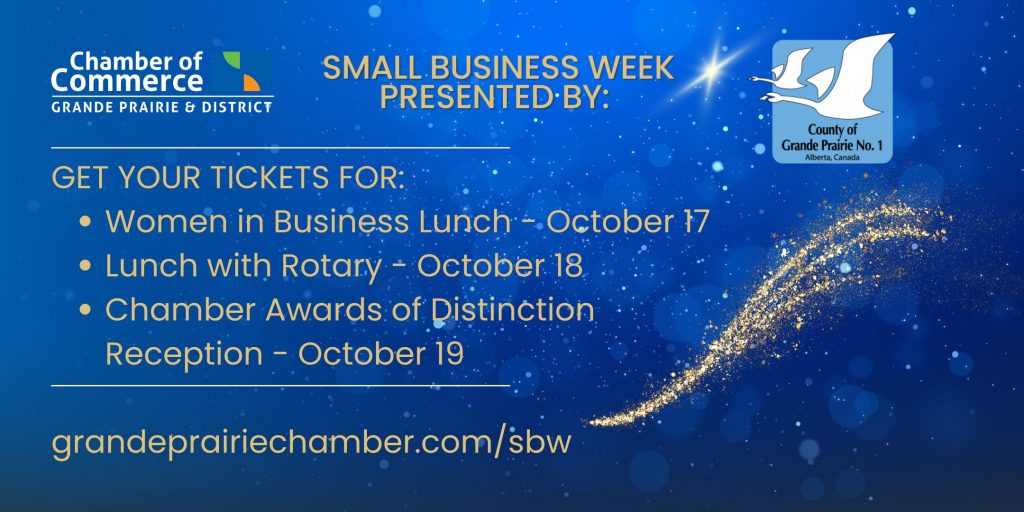 Small Business Week is an annual celebration of entrepreneurship that the Business Development Bank of Canada (BDC) has organized for over 40 years. Every year, close to 10,000 entrepreneurs gather to learn, network and celebrate the people building businesses across the country.
This year, the Grande Prairie & District Chamber of Commerce celebrates Small Business Week with the following events (CLICK on each for more information and registration):
Keep visiting this page for updated information, and watch for details in our Chamber News and Member Marketplace newsletters as well as our social media.
THANK YOU TO OUR 2023 TITLE SPONSOR, THE COUNTY OF GRANDE PRAIRIE!
If you are interested in becoming a sponsor for our Small Business Week celebration, please contact Kim Brown, Events and Community Partnerships, by phone at 780-532-5340 or email kim@gpchamber.com.
Our Grande Prairie Chamber Business Awards of Distinction are held annually to recognize businesses and organizations demonstrating outstanding achievements and contributions in our region. Our economy is driven by thousands of local businesses and organizations whose stories deserve to be shared and appreciated. Nominees who complete the process are promoted in the weeks leading up to and during Small Business Week.
Our 2023 nominees are:
Emerging Business
SVP Cleaning Services Ltd.
PDQ Notary & Process Services Inc.
Sideworx Connect Inc.
Ruby's Treats & Charcuterie
Drop The Shop Auto
92 Beverage Co.
Mr. Pretzels Grande Prairie
To The Root Dental Hygiene
The Homestead Farm
Hollis Developments
Fairy Floss GP
54 Clothing Co.
Crumbs Cafe & Pizzeria
Latitude 55 Distillery
Guac Mexi Grill
CMoore in Education
Legacy Business
GP Home Hardware Building Centre
Rheaume Engineering Inc.
Hi-Tech Business Systems
Beairsto & Associates Engineering Ltd.
Access Physiotherapy
Better Than Fred's
International Paper Grande Prairie Mill
Arcand/White Chartered Professional Accountants
Crouse's Cleaners
Maddhatters
Paladin Security Grande Prairie
Klon Services Ltd.
Leading Edge
Rheaume Engineering Inc.
Paradis Valley Honey - Valley Bee Cafe
Grande Prairie Regional Association of Volunteer Organizations
M3M Marketing Inc.
Marketing
Once Upon A Child
North 43 Design Inc.
Sideworx Connect Inc.
White Lightning Media Inc.
M3M Marketing Inc.
Greatest Impact
Cobs Bread Westgate
Victoria's Attic
PDQ Notary & Process Services Inc.
Paradis Valley Honey - Valley Bee Cafe
Access Physiotherapy
Grande Prairie Regional Association of Volunteer Organizations
Grande Prairie Friendship Centre
Young Entrepreneur
Koolios
Western Beauty Co.
Sideworx Connect Inc.
Braeheid Garden Ltd.
Jake's Lawn Care
Beauty by Claudz Studio & Academy
M3M Marketing Inc.
Shinez Detailing
Diversity and Inclusion
Hayes Fry Law
Paradis Valley Honey - Valley Bee Cafe
Grande Prairie Regional Association of Volunteer Organizations
Care In A Pinch Inc.
Jake's Lawn Care
Beauty by Claudz Studio & Academy
Apex Security
OnPoint Law
Past SBW Awards of Distinction Recipients (Business Excellence Awards until 2014)