Grande Prairie & District Chamber of Commerce Regional Labour Market Study
City of Grande Prairie | County of Grande Prairie | MD of Greenview and Surrounding Communities
A summary of findings of a Regional Labour Market Needs Assessment led by the Grande Prairie & District Chamber of Commerce, in partnership with the City of Grande Prairie, County of Grande Prairie, Municipal District of Greenview and Alberta Labour and Immigration is now available.
The locally-focused study aims to foster a more competitive business environment in the region by assessing the local labour market, and identifying labour gaps and opportunities, as well as future job needs.
A sincere thank you to the over 700 stakeholders who participated in the study.
The partners, in collaboration with Grande Prairie Regional College (GPRC) are currently in the planning stages for the next phases of the study – a Regional Workforce Development Strategic Action Plan.
Please revisit this page for updates on the study.
You can access the Executive Summary by clicking on the image below.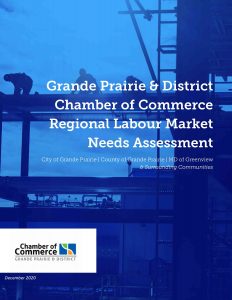 In a recent survey conducted by the Alberta Chambers of Commerce (ACC) network, valuable data were gathered in regard to skills, training, and the labour market.