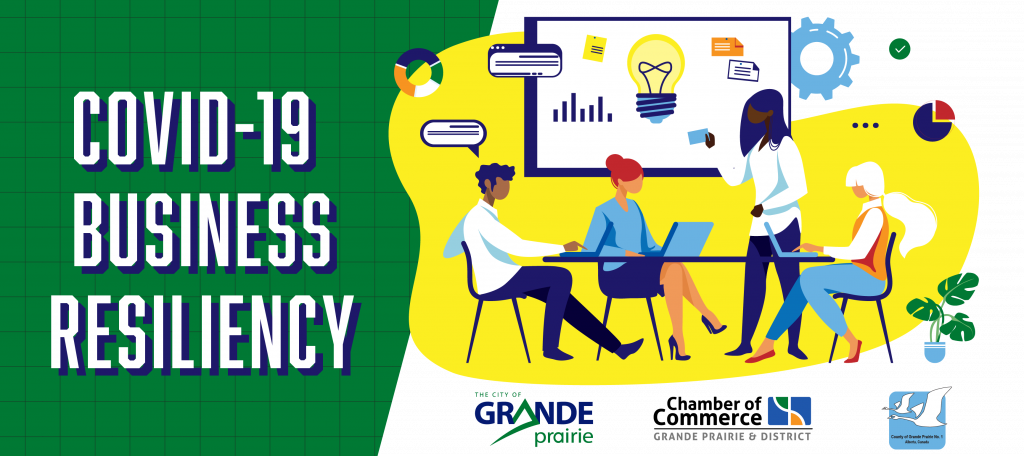 COVID-19 Business Resiliency
The Chamber of Commerce along with the City of Grande Prairie and County of Grande Prairie Economic Development Departments are working together to provide a unified approach to supporting local businesses during these unprecedented times.  Many businesses may be experiencing difficult choices or financial hardship during the COVID-19 crisis and below is a list of resources to help you navigate the various levels of support. If you still have questions, please contact our CEO Tanya Oliver by email tanya@gpchamber.com
One of our initiatives is a Digital Marketing Training program for eligible businesses in the region offered in partnership with Community Future Grande Prairie & Region and nine10 Inc. The program equips businesses with knowledge and practical training in digital content strategy, web design tools, e-commerce, social media, and search engine optimization.
With support from the Government of Canada's Regional Relief and Recovery Fund, which is administered in Alberta by Western Economic Diversification Canada (WD), CFGPR is pleased to announce a second intake to the Digital Marketing Training program. Funding from WD will enable an additional 20 businesses and up to 40 people access to the program through early 2021.
Due to the experiential and hands on format of the training, space is limited. Applications for the program are now closed. Successful applicants will be notified by November 13 with digital onboarding beginning at the end of November. COVID-19 risk mitigation and physical distancing measures will be acknowledged during in-person training with a contingency plan in place for a digital delivery model.
More program details and eligibility criteria here and in the Digital Marketing Training link below.