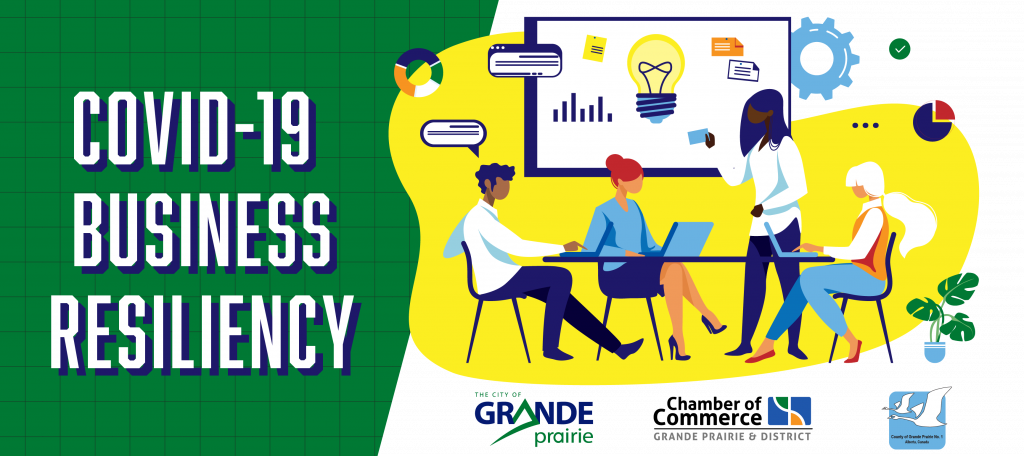 COVID-19 Business Resiliency
The Chamber of Commerce along with the City of Grande Prairie and County of Grande Prairie Economic Development Departments are working together to provide a unified approach to supporting local businesses during these unprecedented times.  Many businesses may be experiencing difficult choices or financial hardship during the COVID-19 crisis and below is a list of resources to help you navigate the various levels of support. If you still have questions, please contact our CEO Tanya Oliver by email tanya@gpchamber.com
The Grande Prairie & District Chamber of Commerce has partnered with the Government of Alberta and the Alberta Chambers of Commerce to provide complimentary COVID-19 rapid testing kits to small and medium-sized businesses. By frequently testing employees, businesses can stop outbreaks before they happen, keeping employees and customers safe.
PLEASE NOTE: As the demand for rapid tests has seen a major increase with the onset of Omicron, Alberta Health is now prioritizing health care and vulnerable settings to ensure requirements for rapid testing are fulfilled at these locations. As a result, the timing for eligible but non-prioritized settings to receive tests is currently unknown and may result in long wait times, and we are unable to accept any NEW applications at this time.
Click on the Rapid Testing Program link below for more information. * A Chamber membership is NOT required.