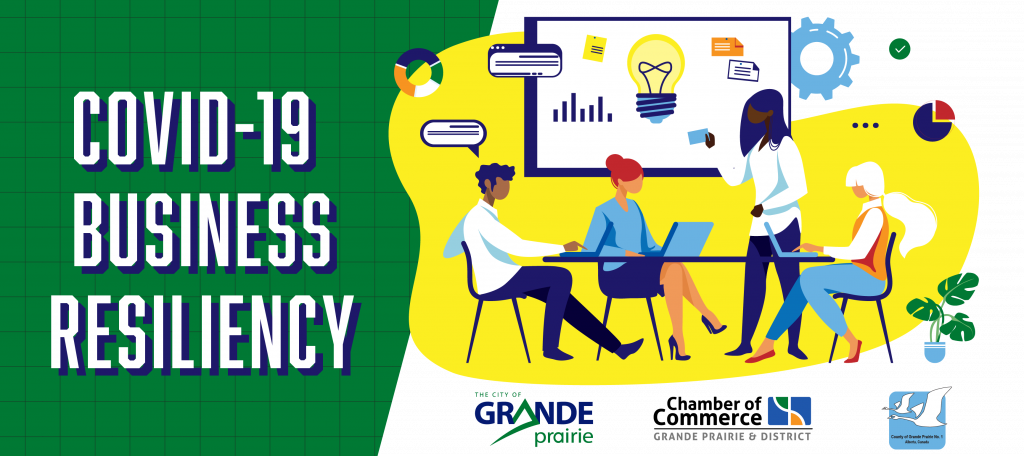 COVID-19 Business Resiliency
The Chamber of Commerce along with the City of Grande Prairie and County of Grande Prairie Economic Development Departments are working together to provide a unified approach to supporting local businesses during these unprecedented times.  Many businesses may be experiencing difficult choices or financial hardship during the COVID-19 crisis and below is a list of resources to help you navigate the various levels of support. If you still have questions, please contact our CEO Tanya Oliver by email tanya@gpchamber.com
TAKE THE ALBERTA CHAMBER OF COMMERCE SURVEY
What's next for Alberta's economy? What are your priorities for our province going forward? How can we recover from COVID-19 and record-low oil prices?
The
Alberta Chambers of Commerce
network has launched a short (less than 10 minutes!) survey focused on economic recovery and provincial priorities. Please 
take the survey
and share your insights. We will share your responses directly with provincial and local decision-makers.
To share the survey with other job creators, please copy and paste the link below rather than sharing your unique URL:
This is an important initiative for Alberta's businesses and economy. Thank you in advance for your participation! The survey closes June 30.